---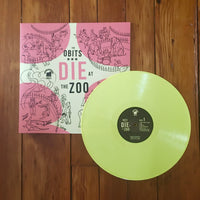 What a killer live album we have for you here! In between their second and third LPs for Sub Pop, the Obits flew south for an Australian tour. Recorded in Brisbane in 2012, Die at the Zoo captures the Obits at their peak, with a recording that easily rivals their studio albums. Check out their classic "Widow of My Dreams" below. 
Die at the Zoo is a 12 song LP but it comes with a download card for the full 16 track concert.
Pressed on yellow vinyl and a limited edition of just 300 copies on pink that come with an Obits bar coaster - WE ARE NOW SOLD OUT OF THE LIMITED PINK VINYL IN NORTH AMERICA. WE HAVE A HANDFUL OF PINK LEFT IN OUR BERLIN MAIL ORDER OFFICE FOR EUROPEAN CUSTOMERS -
As always, we have a limited number of copies of the pink vinyl at our mail order office in Berlin, these are available for Europeans with a special shipping rate!